In today's digital era, webcams have become essential for staying connected, whether for professional video conferences or virtual socializing with friends and family. With technology advancing rapidly, it's always important to stay updated with the best webcam options available.
Webcams have continued to improve in terms of image quality, features, and ease of use. We will look at cameras that can deliver crystal-clear video and audio, offer impressive connectivity options, and provide a seamless user experience.
Whether you are a content creator, a business professional, or someone enhancing your video calling experience, we have got you covered. Our team of experts has put together a comprehensive list of the best webcams specifically tailored for Mac and PC users, considering factors such as compatibility, performance, and value for money.
In this article, we will provide detailed reviews of each webcam, highlighting its unique features and benefits.
A Quick Overview Of Webcam Technology
A webcam is a video camera, connected to a computer or laptop, allowing users to transmit video content to others in real-time or record videos. Mac and PC systems come with built-in webcams, although the specific models and features may vary.
In terms of the latest trends in webcam technology, here are a few developments:
High-Resolution Cameras: With the increasing demand for video conferencing and online streaming, webcams now offer higher resolutions, such as 1080p or even 4K, providing a more detailed image quality.
Autofocus and Low Light Enhancement: Many webcams now incorporate autofocus technology to keep the subject sharply in focus even if they move.
Noise Reduction and Background Blur: Advanced webcams are equipped with noise-canceling microphones to eliminate background noise for clearer audio.
Facial Recognition and AI Features: A growing trend in webcam technology is the integration of facial recognition and Artificial Intelligence (AI) capabilities.
Overall, the latest trends in webcam technology revolve around higher image quality, enhanced audio, intelligent features, and improved privacy measures to cater to the increasing demand for remote communication, video conferencing, and content creation.
Best Overall Webcams to Consider
The Logitech for Creators StreamCam Premium Webcam is a high-quality streaming camera designed for creators. It features a compact and foldable design, making it easy to carry and set up. The webcam connects via USB, ensuring a stable and reliable connection. The camera also includes a Micro SD slot for users to store and transfer files conveniently. With its sleek graphite color, the Logitech StreamCam adds a touch of elegance to any setup. The 2.7-inch screen size provides clear and detailed visuals, allowing creators to capture and stream their content with exceptional clarity.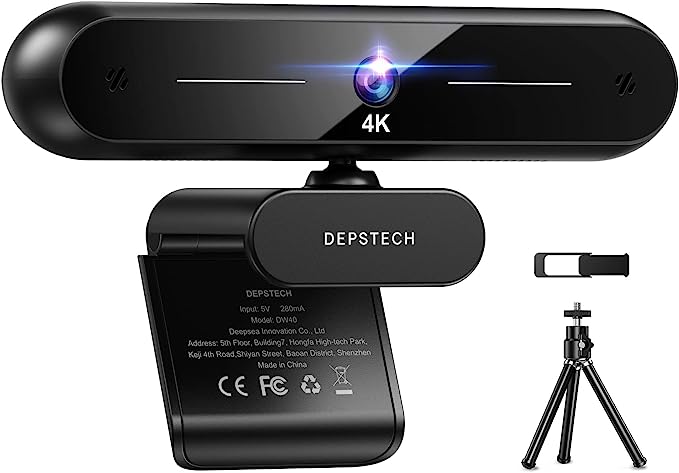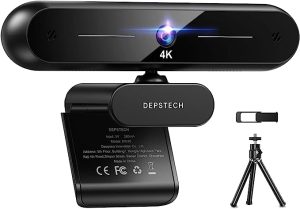 The Razer Kiyo Pro Streaming Webcam offers full HD 1080p resolution at a smooth 60 frames per second, delivering a clear and detailed image during video conferences and live streaming. It features an adaptive light sensor that automatically adjusts to different lighting conditions, ensuring optimal brightness and clarity. With HDR-enabled technology, this webcam provides improved contrast and vibrant colors. The wide-angle lens is adjustable, allowing users to customize the field of view (FOV) to capture the desired frame. Furthermore, it is compatible with popular conferencing platforms such as Zoom, Microsoft Teams, and Skype, making it ideal for professional video calling and collaboration.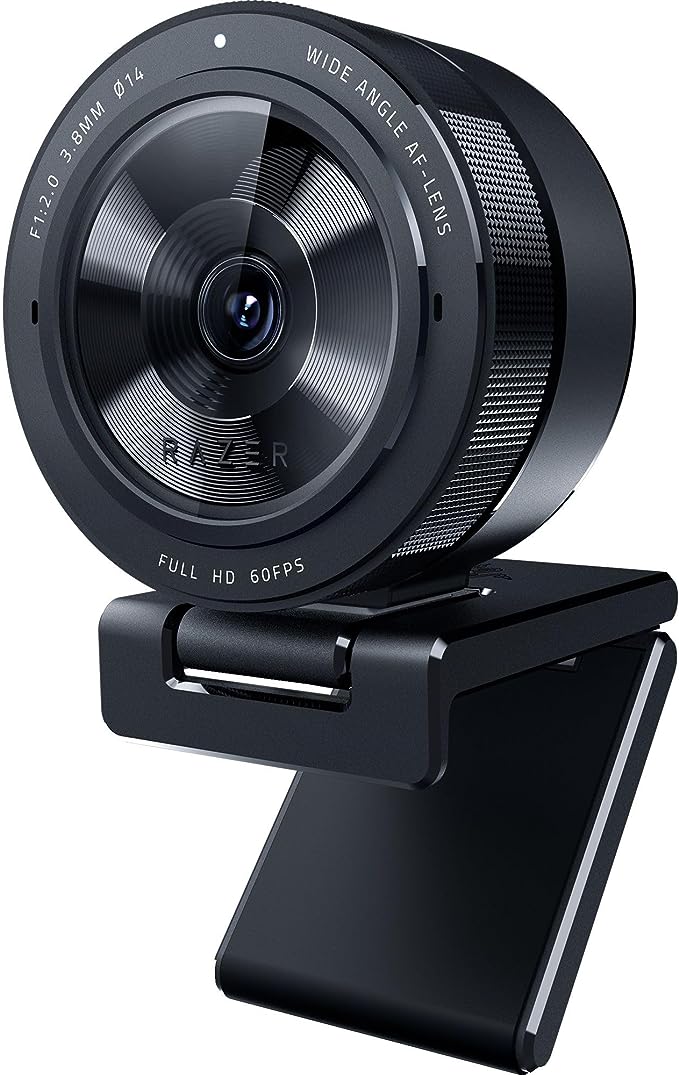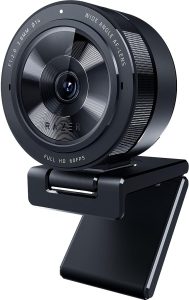 The Microsoft Q2F-00013 LifeCam Studio webcam is designed for high-quality video recording and chat experiences. With its 1080p HD video recording capability, users can capture videos with exceptional clarity. The 720p HD video chat feature enables smooth and detailed video calls. This webcam incorporates a high-precision glass element lens that ensures sharp image quality. TrueColor Technology, coupled with face tracking, enhances video quality by providing bright and colorful visuals. Its 360° rotation capability allows users to adjust the camera angle according to their needs. The tripod mount ensures stable positioning for optimal recording. The auto-focus feature ensures that images remain clear and crisp. The built-in noise-canceling microphone captures audio with excellent clarity, while the wideband microphone delivers natural and detailed sound.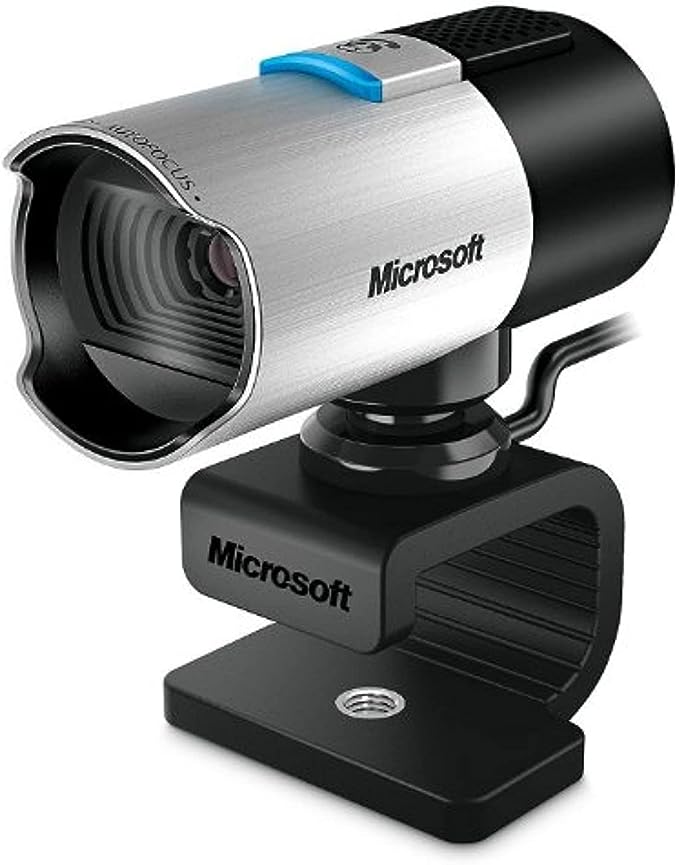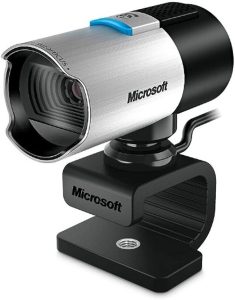 The Logitech C920x HD Pro Webcam is a high-definition webcam designed by Logitech. It offers USB connectivity technology, allowing for easy and quick setup on various devices. The webcam comes in a sleek black color, giving it a modern and professional appearance. A special feature of the C920x webcam is its low-light capability, ensuring clear and sharp video even in dimly lit environments. The webcam has a screen size of 2.7 inches, providing a clear view of the video feed. It utilizes CMOS photo sensor technology to capture high-quality images and videos. The C920x is more than just a webcam; it is a versatile video camera, enabling users to capture and record videos.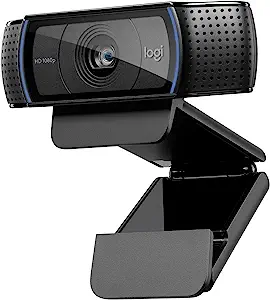 The Microsoft Modern Webcam is a cutting-edge webcam that offers a range of impressive features and specifications. It is equipped with a built-in Noise Cancelling Microphone, ensuring crystal-clear audio for your video conferences or online meetings. The integrated Privacy Shutter provides added security and lets you control your privacy with ease. With Video with HDR capabilities, this webcam ensures stunning and vibrant video quality, making you look your best even in challenging lighting conditions. The USB Connectivity allows for easy and convenient setup, while its compatibility with Teams and Zoom makes it perfect for professional use. Trusted and Certified for Teams/Zoom, the Microsoft Modern Webcam is a reliable and high-performing webcam that meets all your video communication needs.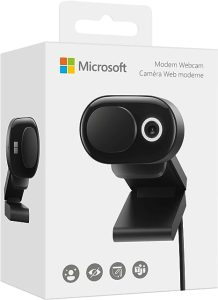 Introducing the Microsoft Modern Webcam, a perfect companion for business professionals seeking seamless video conferencing experiences. Equipped with a built-in noise-cancelling microphone, this webcam ensures crystal-clear audio for your calls, eliminating any background disturbances. Additionally, it features a built-in privacy shutter to ensure enhanced privacy and peace of mind when not in use. Compatibility-wise, this webcam works seamlessly with Windows operating systems, guaranteeing a hassle-free experience across a wide range of devices.
Key Features:
Light Correction: Automatically adjusts for poor lighting conditions to provide the best possible video quality.
USB Connectivity: Easily connect to your computer with the included USB cable.
Microsoft Teams/Zoom Compatibility: Designed specifically for video calling on popular platforms like Microsoft Teams and Zoom.
Business-Focused Design: Suitable for professional use, with a sleek and modern look.
Flexible Mounting Options: Includes a universal attachment base for easy mounting on any type of display or monitor.
Versatile Use: Ideal for video conferences, online meetings, webinars, and remote learning.
Enhanced Privacy: Built-in privacy shutter to cover the camera lens when not in use.
High-Level Compatibility: Works with Windows operating systems, making it compatible with a wide range of devices.
Upgrade your business communication with the Microsoft Modern Webcam and enjoy clear, high-quality video and audio for all your video conferencing needs.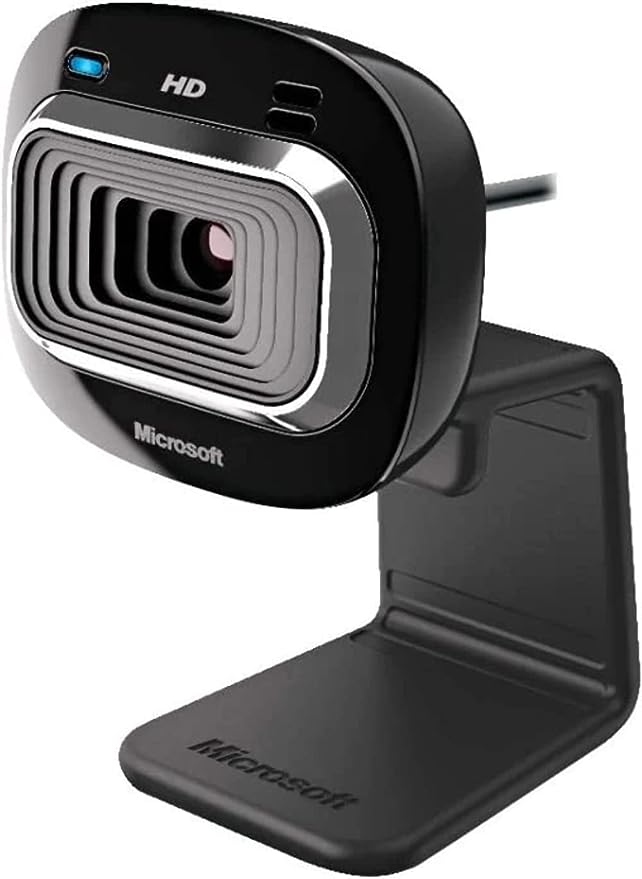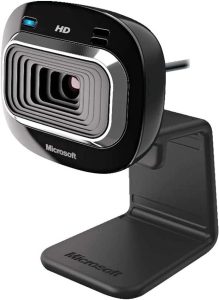 The DEPSTECH 4K Webcam, model DW40, is a high-definition web camera with advanced features. It is designed for seamless connectivity with its USB connection technology. The webcam comes in a sleek black color, adding a touch of elegance to any laptop or PC setup.
Key Features:
4K Resolution: The DEPSTECH 4K Webcam offers an impressive ultra-high-definition resolution of 3840*2160 pixels, ensuring crystal-clear and detailed visuals during video calls or streaming.
Auto-Focus Lens: With its auto-focus lens, this webcam ensures that your images and video always remain sharp and in focus, providing a professional and polished appearance.
Dual Noise-Canceling Microphones: The webcam is equipped with dual noise-canceling microphones, effectively reducing background noise, and delivering clear and crisp audio during video calls or recordings.
Tripod and Privacy Cover Included: This webcam comes with a tripod and a privacy cover, offering convenience and added privacy when the camera is not in use. The tripod provides stability and allows for flexible positioning, ensuring optimal framing during video calls or streaming.
Sony Sensor: This webcam utilizes a Sony sensor, ensuring high-quality image capture and excellent color reproduction, making it ideal for professional and personal use.
Overall, this webcam is a versatile solution suitable for various applications, including video calls, online streaming, and Zoom meetings.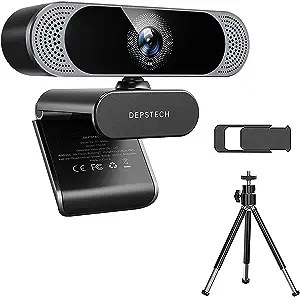 You may also like this: How To Fix A Slow Macbook Pro
The Round Up!
In conclusion, as we move further into the digital age, the importance of having a high-quality webcam cannot be understated. Whether you're a professional working from home or video chatting with loved ones, investing in the best webcam for your Mac or PC can enhance your online experience.
After thorough research, we have narrowed down the top webcams of 2023. These webcams offer impressive video quality, clear audio, and convenient features that cater to Mac and PC users. From the sleek and compact design of the Logitech C922 Pro Stream to the advanced facial recognition technology of the Razer Kiyo Pro, there is a webcam for every need and budget.
Now that you are aware of the best webcams available, it's time to act and upgrade your current setup. Don't settle for mediocre video quality or grainy audio any longer. With the right webcam, you can ensure you are seen and heard clearly in all your virtual interactions.